If you want the ultimate in off-site data protection, look to cloud computing solutions such as Carbonite Business to help you survive and recover from disasters that wipe out your physical systems.
Unlike traditional daily or weekly backups, Carbonite Business continually backs up the files on your PCs to its secure data centers throughout the day. There's no intervention required by your employees, and you have complete visibility into, and control over, individual backups via the handy My Company Dashboard, where you can see your users, computers, storage in use, backup status and more.
Best of all, the pricing scheme for Carbonite Business can't be beat. Instead of paying per PC, you pick the plan that fits your storage needs, 250GB for $229 per year or 500GB for $599 (which includes service for one Windows server), and protects as many machines as you need, resulting in one of the lowest per-gigabyte storage prices of any online business backup solution. The home and home office version starts at $59 per year per computer.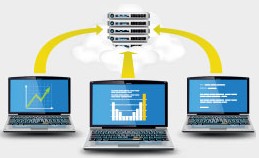 Never interrupts your business
With Carbonite, your backup happens automatically, in the background. Users never have to stop working, and after the initial backup, shouldn't notice any impact on performance. And no one has to choose between backing up and doing their jobs.
No hardware required
Carbonite is 100% software-based backup – there's no hardware to install or maintain, no wires to connect, no disks or tapes to deal with, no technician needed. You simply install the software and Carbonite takes care of the rest.
Safer than local backups
Your backup is encrypted at all times, and stored on redundant disk arrays that are immeasurably more reliable than internal or external hard drives. (If you have external hard drives you can back them up with Carbonite Business, too.) Our state-of-the-art, guarded data centers protect your business backup from theft, fire, water damage and anything else that can happen at your office.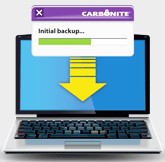 Smarter than scheduled backups
Carbonite backs up your data continually, updating your backup in the background – eliminating the potentially costly 'backup gaps' created by daily or weekly backups.
Restores files fast to minimize downtime
If you lose a file, get it back with a few clicks. If your hard drive crashes, restore all your backed up files to another computer via Carbonite.com – or, for mission-critical recovery, have your backed up files shipped to you on a portable hard drive.
Anytime, anywhere access to backed up files
With Anytime, Anywhere Access, you can open, view and share any file in your backup from any computer connected to the Internet. Or use one of our free mobile apps to access your files from your iPhone®, iPad®, Android™ or BlackBerry® device.