A revolutionizing service in the cloud backup and synchronization space
Bitcasa is an app that integrates infinite storage, sync, backup and share into your desktop and across all your devices. When you add any folder to Bitcasa using the Add tab in the Desktop Client, you can choose from the following options depending on how you want Bitcasa to handle it: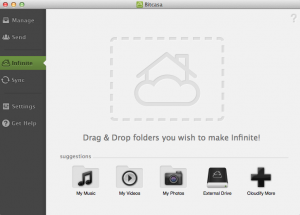 Infinite
Your folder never fills up, regardless of what you put in it. It appears on your computer just like a normal folder and Bitcasa instantly streams its contents to your device as you use it. You might want to make your videos Infinite as they take up a lot of space. As long as you're online, they will be available to watch with an Infinite folder.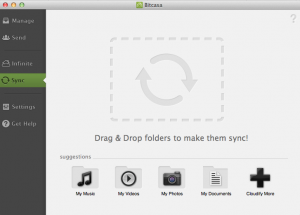 Sync
Your folder is copied to every device whenever you make changes. It will be available even when you are offline. You might want to Sync all your work documents so you always have the latest copy handy. With a Sync folder they'll be available on or offline, whenever you need it.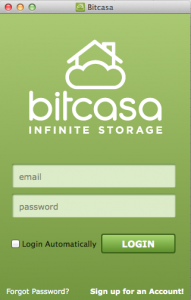 Backup
Your folder stays on your current computer and is backed up to Bitcasa for safe-keeping. Any changes you make to the folder are automatically propogated to Bitcasa as well.
You can also send any of your folders to someone else using the Send tab in the Bitcasa Desktop Client.
Bitcasa allows you to make any folder infinite, whether they are on your desktop, laptop or external storage device, and access it from anywhere with an Internet connection. Once folders have been made infinite, you can continue to use them just like you would any other folder.
Watch the short demo videos here.
Bitcasa is in beta and is currently free to use. Soon they will be offering the service for only $10 per month when it officially launches.