Customer Relationship Management
by
BatchBlue
Batchbook is customer relationship management software (CRM) created to be useful, user-friendly software for businesses that have a limited budget but wish to track contact information about their customers and any points of contact that the business has with them (phone calls, e-mails, purchases, returns, reservations, etc.). If you need to collect industry and business specific information about your customers that can't be handled by basic e-mail management software, and desire an easy-to-use system with excellent customer support, then you need to check out this product.
Contact Management
Batchbook allows you to keep track of your business, personal, and social networking contacts and share them. You can create a flexible, easy-to-use contact database from scratch, or import your contacts from an existing system. In addition to standard contact information, you can use SuperTags to create custom fields to capture the information that's important to you (such as customer information, personal details, or social networking profiles). The Contacts tab offers a variety of filtering options and powerful batch actions so you can efficiently manage your network.
Social Media Monitoring
With one click of the "Search Social Network" button, you can easily find and add your contacts Twitter, Flickr and LinkedIn profile information. When you view the contact record, you will have links to social networking profiles as well as their last three tweets, most recent Flickr photos, and a LinkedIn summary will appear alongside their contact information and communication history, giving you a more holistic view of their social networking activity. You can also add other feeds such as work and personal blogs by using the Social Media supertag.
Custom Fields with SuperTags
A SuperTag is a tag with a lot more power (hence, the super hero status!). By turning an ordinary tag into a SuperTag, you can group contacts together and create custom fields for only those contacts. SuperTag your "press" tag to track custom information about your press contacts like publication, topics, and preferred contact method. SuperTag your "customer" tag to store customer data such as birthday or account information.
With SuperTags, you can choose from different field types, including text, number, yes or no, phone number, email address, website, date, recurring date, multiple choice and even RSS feed. Every SuperTag field is searchable through Batchbook's powerful advanced search and reportable through Batchbook's Lists & Reports.
Communications Tracking
Batchbook Communications allow you to log emails, phone call notes, or any other communications with your contacts. Follow the communications stream of your entire team by subscribing to the feed. Want to see the last time your company contacted a client? Simply look up your client and that information is displayed on their contact record.
Also, with BatchBox email forwarding, you can send emails directly to Batchbook. Batchbook will automatically store the email as a Communication, attach it to the relevant contacts (and create a new contact, if needed), and retain any attachments.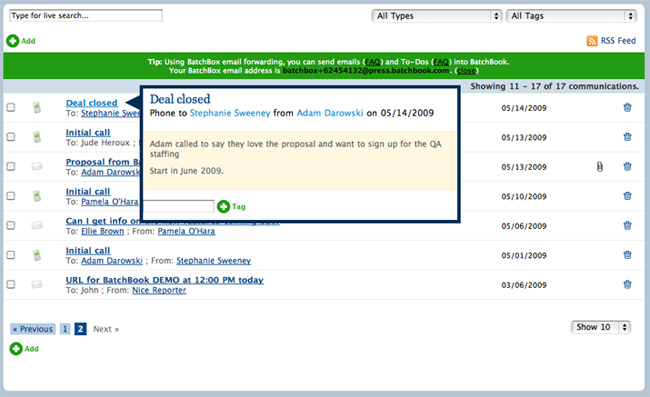 Email forwarding with BatchBox
With BatchBox email forwarding, you can send emails directly to Batchbook. Batchbook will automatically store the email as a Communication, attach it to the relevant contacts (and create a new contact, if needed), and retain any attachments.
You can also create To-Dos from email via BatchBox by including "TODO:" at the start of the subject line.
To-Do Lists
The Batchbook To-Do list lets you manage your tasks quickly and easily. In addition to managing your own tasks, you can assign tasks to other users. You can even create To-Dos by email via BatchBox email forwarding.
 To stay on top of your tasks, you can set email reminders, subscribe to the feed or even print out a handy portable version of your To-Do list.
Lists & Reports
Batchbook's Lists & Reports allow you to build a list from all contacts, an advanced search or tags to better manage your contacts. Use a list to easily generate mailing labels, export, or back up your data or create customized, printable reports from your contact data. Use these reports to generate call lists, add to presentations or to take notes when you're traveling, in the field, or working off-line.
Web Forms
Batchbook web forms fit your data-gathering needs, whatever they may be. Customize a web form to capture the information you need from your website which will then be added directly into your Batchbook account.
 Use your web form to generate leads, collect newsletter sign-ups, invite visitors to a class or webinar, conduct surveys, or anything else you can imagine.
Sales Process Management
Your contacts are the lifeblood of your business; sales are its heart. Batchbook allows you to track your incoming leads, create custom workflows for your sales cycle, manage all contacts and communications associated with a deal, save any custom data pertaining to your deal type and build reports for tracking your sales pipeline.
Batchbook gives you easy, yet powerful tools for managing your sales process.
Click here to watch any of several short video demos and see how great this product is. 
To learn more, and to check out pricing
visit the Batchbook website.